So you've booked your trip to Australia and have an itinerary filled with exciting activities. This continent has some of the most extreme and varied climates in the world and if you're coming from the northern hemisphere, don't forget that the seasons are opposite, i.e. it's summer there, when it's a frosty winter in New York.
From the tropical rainforests of Far North Queensland, to the harsh topography of the Outback, it's difficult to know what to pack. First, know what season you'll be traveling in, and second, have an idea of what types of activities you want to indulge in and this will help you get started packing for visiting Australia!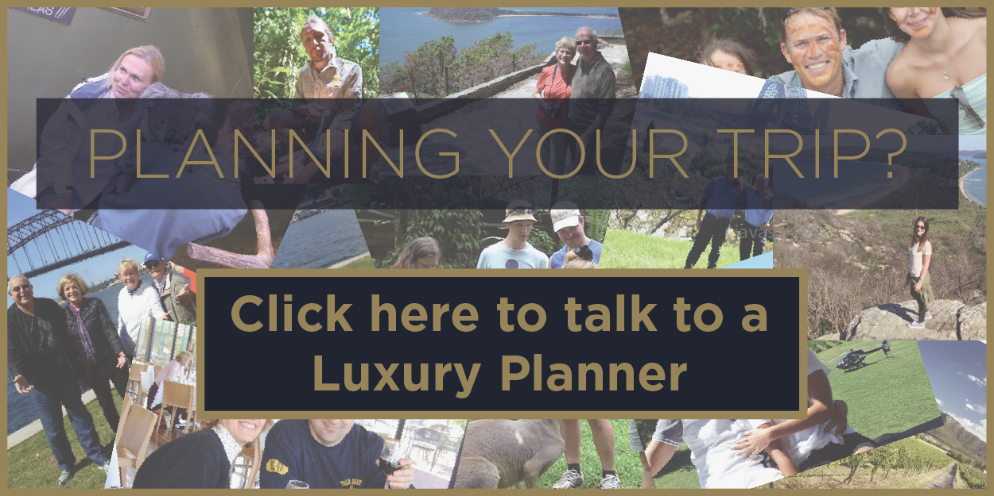 Medicine Cabinet
1. The sun in Australia is very strong so pack plenty of suntan lotion. Of course you can buy this there, but it's good to bring your own.
2. Insect repellent if you are planning any trips to the outback or hiking excursions.
3. Aspirins or medications are always on the packlist since you may be in a remote area that doesn't stock what you need.
4. Jet lag medicine: whether it's melatonin or a sleeping pill, bring something to help you adjust to the significant time difference that will take some time getting used to.
5. First aid kit with sting cream/Benadryl/antiseptic in the event that you get bitten by a nasty bugger.
Toolkit
6. Flashlight and some batteries or a way to recharge this important item that you will need if you are doing any camping, hiking, or just want to have in case of an emergency.
7. Power adapters are key. The official voltage for Australia is 240 volts with most electrical goods and devices operating at around the 220 – 240 volt mark. Australia uses the 3 pronged outlet, so make sure to have this handy in your carry on so that you can recharge phones, cameras, laptops, etc.
8. Voltage adapter: Before leaving, you should check the voltage capacity printed on the items that you plan to plug into the power supply. If it says the effect of: '100-240V' (and possibly 50/60 Hz) then you can switch between the two and use the electronic device anywhere in the world. If you have an appliance from the USA or Canada though, like a hairdryer for example, that is only able to take 120 volts and you plug it into an Australian outlet (putting out 220-240 volts) it may damage your appliance.
9. Waterproof camera or case if you plan on doing any water activities and don't want to risk damaging your equipment.
10. Bug net/covering if you're doing any camping and want an extra layer of protection.
Clothing
11. Hiking shoes or trainers – there is a lot of walking to be done in the outback and simple beach sandals aren't going to cut it.
12. A good sun hat if you plan on doing any treks in the Northern Territory where there is lots of desert heat.
13. Clothing that can get dirty if you are going to the desert where the dirt is red. Leave the white polos and light blue shorts at home.
14. Sun protective clothing. If you're doing any treks or outdoors activities, it might be best to invest in a sun protective shirt since you'll be in the sun for long hours and may sweat off regular sunscreen.
15. Breathable socks for all the walking you'll do so that you don't end up with chafed feet.
16. An overnight bag, ideally a lightweight small backpack-sized bag that can hold 1-2 days of clothing if you're doing any tours and need to hop onto a small boat, a tiny plane with luggage restrictions, or onto a cable car up a mountain. You'll definitely need this if you plan on sailing the Whitsundays, or have any night stops on a tour.
17. Hiking pants if you've signed up for any excursions that will take you off the beaten path
18. Lightweight jacket. We mentioned earlier that the climate in Australia is quite varied so if you've
19. Sports bras and swimsuits for the ladies, and you can never have enough of these since water activities are typically high on the list for most people visiting Australia.
Activity-specific
20. Snorkel gear if you've got your own and don't want to waste time and money renting it.
21. Wetsuit, rashguard and/or board shorts if you plan on taking advantage of Australia's surf spots.
22. If you're traveling June through October, you might find yourself with a ski resort on your itinerary. Bring your own gear, if you like and don't mind the items taking up space in your luggage, or feel free to rent once you're there.