As specially curated travel destination lists get published, it's no surprise that the city down under is one to continually tail an upward trajectory. Sydney, Australia has ranked chief among such lists and remains modest in both its growing semblance of "cool" and its spot-on embodiment of the perfect getaway. Having already won over 2016, deemed the "Year of Australia" by Peter J. Lindberg, the Land of Oz is a must-visit for travellers of all types. Here are six Australia Points of Interest check out in Sydney, Australia:
1. Bondi to Coogee Coastal Walk
One of the best experiences for a traveler is a change of scenery, and there's no place to take in the sights like the seaside paradise provided by Australia, winner of the topographical jackpot.
The 6km Bondi to Coogee coastal walk provides you incredible views of the cliffs, rock pools and beaches of Bronte, Clovelly and Tamarama (this may be my favourite one to say!). The trail is thoroughly corralled with picnic areas, change rooms and washrooms to accommodate a full day of sight-seeing, picture (and selfie!) taking and sun-bathing.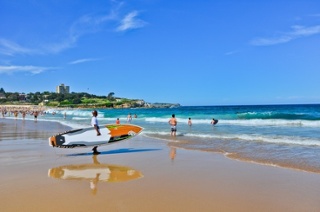 . The Flight Experience at Darling Harbour
For the thrill seekers and adrenaline junkies that the adventure-laden continent incontestably attracts, there is the flight simulator experience located right in Darling Harbour. Should you choose, you can actually fly a commercial-grade jet simulator – with no experience required!
For those who choose not to challenge their heart rates, Darling Harbour is also home to the wallabies and crocodiles ofWILDLIFE Sydney Zoo, the rays and sharks of the SEA LIFE Sydney Aquarium and the tranquility of the Chinese Garden of Friendship, along with a wide range of trendy bars and nightlife to close out the day.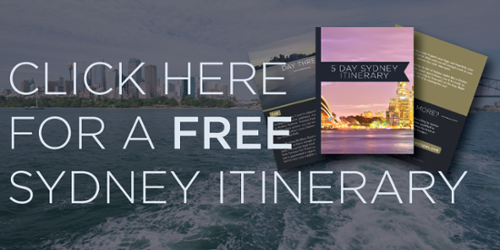 3. Hyde Park
After taking in the sights and the thrills, there is always room to take in some history. Hyde Park, Australia's oldest park, is home to monuments, statues and memorials, including the Anzac Memorial, a picturesque homage to all Australians who served their country. Here you will also find yourself feasting your watery eyes on St. Mary's Cathedral, an enchanting work of architecture to feed both your inner history buff and artist.
4. Royal Botanical Gardens
Located in the heart of the city, the Royal Botanical Gardens are a must-see for two reasons: 1. It's a relaxing (and free!) way to enjoy your holiday, and 2. It offers one of the best vantage points of the harbour city, including both the Opera House and the Sydney Harbour Bridge. The spectacular horticultural hub was established in 1816 and confidently holds the position of being the oldest scientific institution in the country. Unparalleled views AND a historic landmark in one Australia points of interest? Yes please!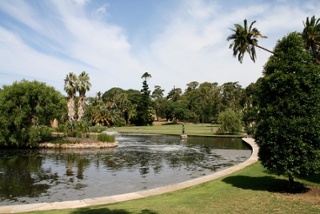 5. The Rocks Market
The bustling scene of Sydney's markets is definitely one to check out, in particular its most popular market located in the famous Rocks district. Open Saturdays and Sundays, the market welcomes passionate buyers and sellers, swarming in and around cobblestone laneways, dancing around unique jewelry, art and nifty finds you wouldn't be able to find in any ordinary venue. The Rocks Market is open from 10AM to 5PM.
6. Walsh Bay
When you've finished taking in these Australia points of interest and the history, it's time to take in some culture. Walsh Bay has quickly established itself as the arts and culture centre of Sydney, as boasted by Timeout in 2016. It's more commonly known for the Sydney Theatre Company, established in the 1970's, which truly accelerated the port's rich aestheticism. The food and drink scene in Walsh Bay is another remarkable treat, with bars, such as Lord Nelson Brewery, Australia's oldest pub brewery, and restaurants in Sydney, including The Gantry, hugging the wharves along the coast and offering some of the country's most renowned culinary experiences. In addition to the great eats, Walsh Bay is also a quirky little area with hidden, secret stairways in the streets and open air sculptures that are definitely worth exploring (that is, if you haven't had one too many brews at the Hero of Waterloo!)