For a small population, Australians compete extraordinarily well in a range of different international sports. Swimming, Surfing, Soccer, Cricket and Hockey just to name a few. One of the reasons for this, apart from being brought up on Vegemite, is the fact that as Australians, we can spend a lot of time outside. Our long hot summers and relatively mild winters allow us to take full advantage of an outdoor lifestyle. If you are travelling to Australia you may like to partake in some outdoor activities with locals. These outdoor activities may change depending on what State or Territory you are in and even what time of the year it is. For example you wouldn't find a game of rugby being played in Adelaide in January. But you may find a game of AFL to watch in June. So strap on your budgie smugglers and stand by for my Top 5 Australian Outdoor Activities.
1. Catch a game of AFL
Australian Rules Football or AFL as it is known locally is probably one of the most exciting spectator sports that exist. Religiously followed in Melbourne and played on an oval that is 150 meters long and 100 meters wide the players run an average of 5 miles per game. You will truly appreciate the upper body strength, athleticism and sublime fitness of the players watching this game live. The on ball and off ball action is great to see. Grab a meat pie and enjoy the electric atmosphere. If you can try to get to either the Melbourne Cricket Ground (MCG) or Sydney Cricket Ground (SCG) for the best viewing experience.
My Hot Tip: The MCG and SCG both operate behind the scenes tours. Explore the inner sanctum of the stadiums, walk on the hallowed arena and experience where legends play! Gain an insight into the sporting culture while exploring Melbourne and Sydney's most iconic stadiums.
CLICK here for MCG Guided Tours 
CLICK here for SCG Guided Tours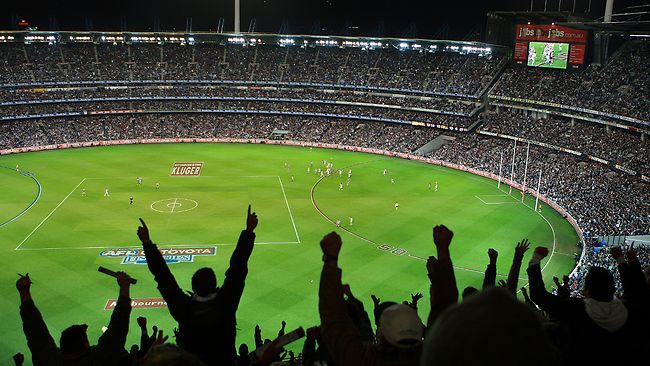 2. Take a stroll along the Bondi to Coogee Coastal walk
The Bondi coastal headland walk has been popular with locals for many years. Stretching for 3.5 miles along a rugged and stunningly picturesque coastline, the well worn track features plenty of places to stop and take in the views. Most people are familiar with the Bondi to Bronte section only but my tip is to take the extra time and cover the whole distance through to Coogee. Better still, start at Coogee and finish at Bondi. This can take up to 90 minutes, and then once at Bondi, enjoy a swim in the famous Icebergs Pool before lunching there. If you are travelling to Sydney during the month of October, you have the added benefit of enjoying Sculptures By The Sea. A wonderful series of over 100 Art Installations covering the walk from Bondi to Bronte.
My Hot Tip: Finish the walk at Bondi with a Private Yoga Class overlooking Bondi Beach
CLICK here to check out Yoga By the Sea 
3. Go Camping
Australia has so many great camping spots it's hard to know where to start. One of my favourites is Moreton Island just off the coast of Brisbane. Take the car ferry across to the small sand island for a couple of days of fun four wheel driving and camping. It is easy to explore the island by four wheel drive and there are tons of places to camp. Moreton Island features wonderful beaches and inland lakes. Camp at Blue Lake and enjoy swimming in the beautiful clear water.
If you don't have a 4WD or tent for that matter, there are a number of "Glamping" sites scattered through Australia that provide a genuine camping experience without the hassle. There are quite a few but I have listed my top 3 below:
Sal Salis – Ningaloo Reef Western Australia
My Hot Tip: If you have a location in mind and there is no where to stay, then don't fear, flash camp is here! Flash Camp is a temporary luxury camping accommodation that does all the hard work of setting up camp for you. They provide comfortable, bespoke accommodation with outstanding services to enhance your guests' experience.
4. Learn to Surf on Bondi Beach (Budgie Smugglers Optional)
Bondi Beach is undoubtedly one of Australia's best beaches. It has everything. Warm clean water, clean sand that is raked daily, great swimming, a wonderful family atmosphere with close by cafes and restaurants and great surfing. There may be beaches with whiter sand in Australia but generally these are more remote with no facilities. A favourite past time of millions of Australians is surfing. It is part of our culture living on the biggest Island continent in the world and I would highly recommend a surf on Bondi Beach. Our very good friends at Lets Go Surfing cater for beginners and pros alike to give you a wonderful Bondi experience. With great gear and the best instructors in the business, you are bound to have an amazing experience with or without your Budgie Smugglers.
My Hot Tip: Book a beach picnic on one of the most iconic beaches in Sydney! Sydney Picnic Co provides something that's authentic and real in a fast paced and throw-away world. The great thing about a fine picnic dining experience is that you get to choose the view and stay all day!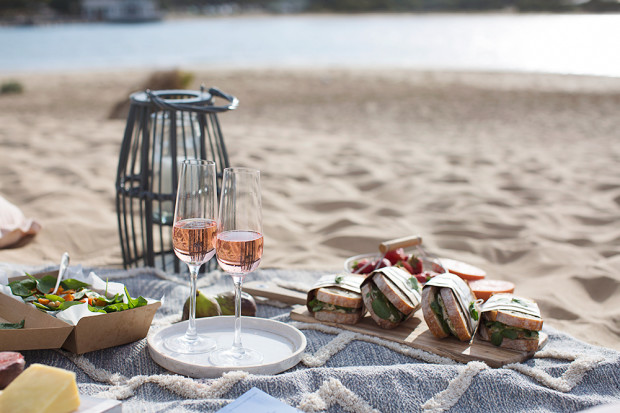 5. Snorkel the Great Barrier Reef
Simply one of the best outdoor experiences you can have in Australia is a visit to the incredible Great Barrier Reef. One of the Seven Wonders of the World, the Great Barrier Reef stretches for over 1800 miles and is the only living structure that can be seen from space. It also features one third of the worlds coral species and 1500 species of fish. One of the best places to access the Great Barrier Reef from is Port Douglas in Far North Queensland. The nearby bustling town of Cairns is also a great departure point. Excellent snorkelling and diving spots can be accessed easily from both of these ports in just a couple of hours. We all know that there are a many boat operators, large and small, that can take you out there. But for something a little special, book a private helicopter for an exclusive experience on your own piece of paradise. Feel the thrill of flying over the picturesque coral-studded sea before landing on your private sandy cay. Relax on the pure white sand, beach comb for treasures, lay in the shallow crystal waters or snorkel straight off the cay and discover the magic of the underwater world. The experience is complete with a gourmet picnic hamper and sparkling wine and helicopter return to Cairns or Port Douglas.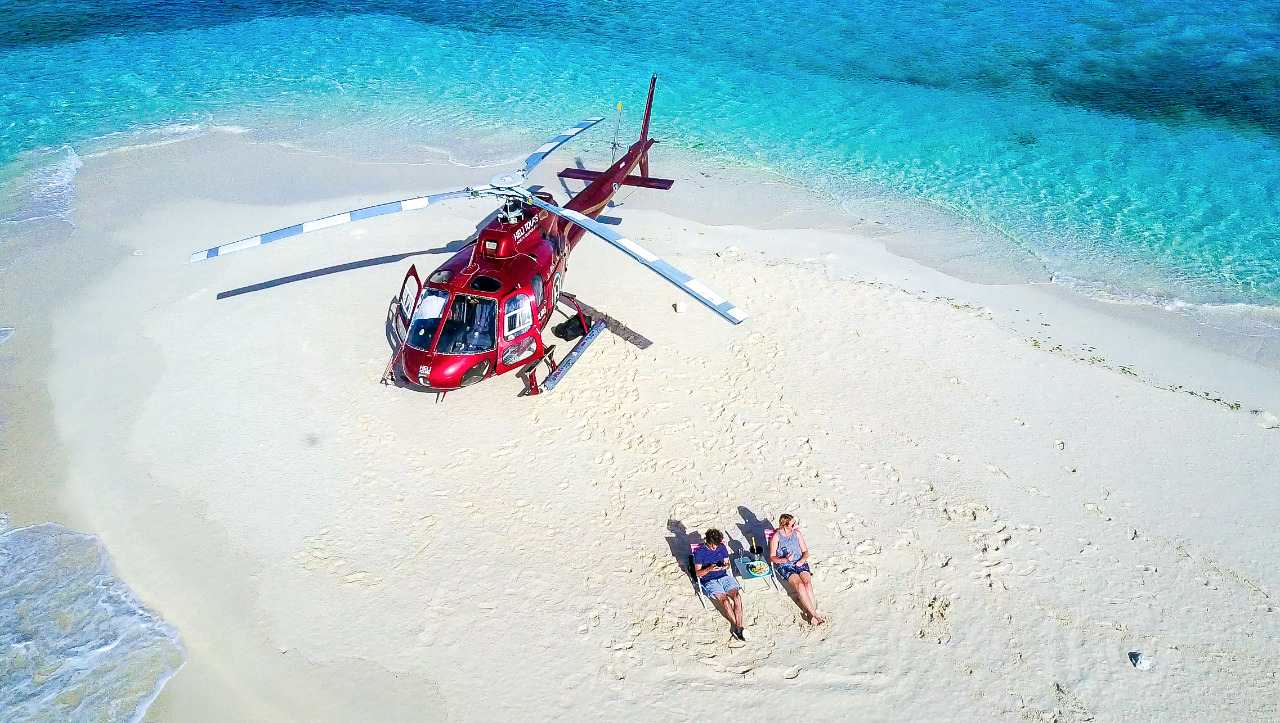 Want more information on things to do in Australia? Email us today!
E: tours@australianluxuryescapes.com
>>>>CLICK ON THE IMAGE BELOW TO DOWNLOAD A COPY OF OUR 5 DAY SYDNEY SAMPLER <<<<