What a year 2020 has presented us with. If you're a regular overseas holidaymaker and looking for inspiration on doing something a little special this year in Australia, look no further as we have the perfect destinations and solutions to suit the savviest traveller.
Do Something Escorted
For something really special, look at joining a small group or privately guided experience. The value that a locally-sourced guide provides is priceless. Having someone drive you instead of navigating yourself along narrow country roads is one thing, but then having someone open and close your doors and introduce you to that perfect cup of coffee or hidden "hole in the wall" gem is another. Local guides can source experiences that you may have thought were unattainable, and craft them seamlessly into your itinerary.  Small-group tours allow you to meet and spend time with other folks that have the same interest as you, often creating lifetime friends. Private touring gives you complete flexibility and is perfect for a group of friends or family travelling together.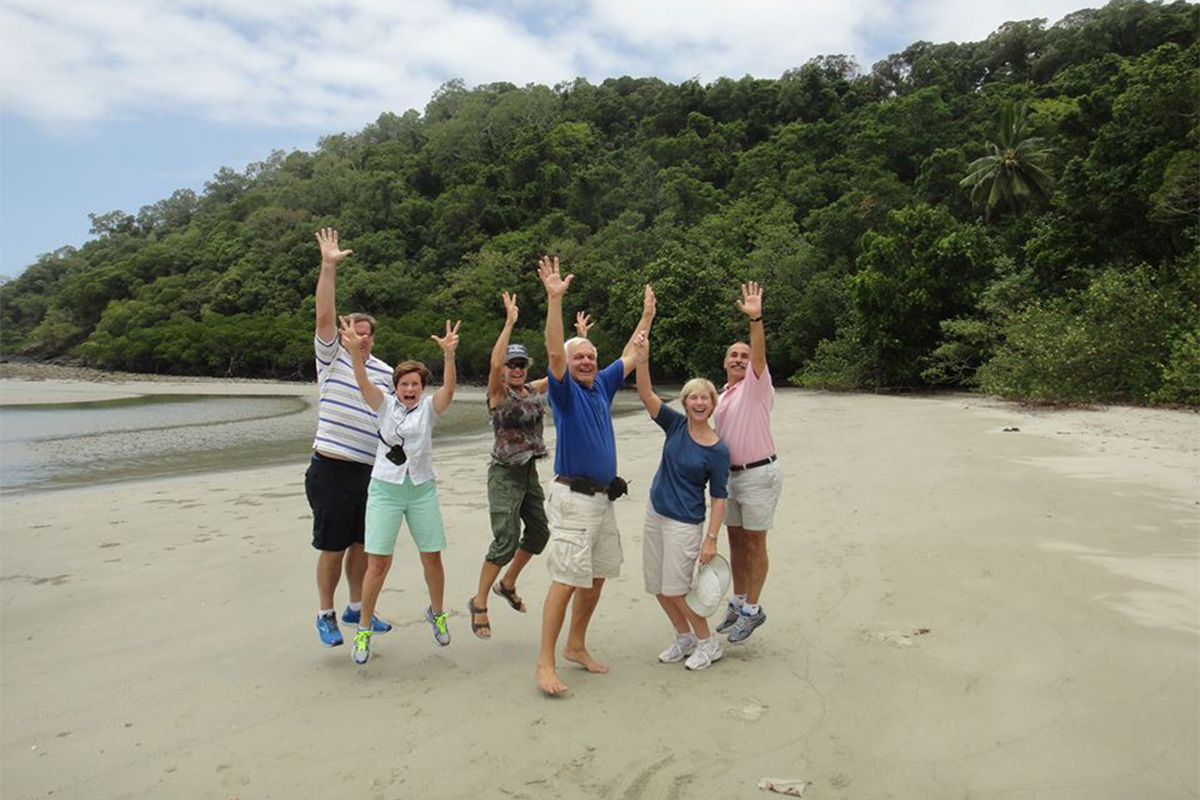 Look Regional 
Don't be afraid to wander out yonder. Regional Australia offers some of the most authentic and iconic experiences available. There is something special about meeting a local that authenticates your experience. Escorted touring is focused on this aspect and often opens the door of country pubs, CWA's, galleries, exhibitions and monuments that normally would be unknown to regular travellers. Many parts of regional Australia are currently undergoing a renaissance of types with offerings usually only available in the big cities. From luxury 5 Star Boutique Hotels to fine dining and cool cafes. Regional Australia has it all and in spades.
You won't have to look too hard to find what you're looking for but being with a local guide will certainly help. Here are some of our favourite Regional Guided Experiences…..
New South Wales
Orange and Mudgee
On the western side of the Great Dividing Range in the New South Wales Central Highlands is the small township of Orange. Always well known for its agricultural industry, Orange has been somewhat of a Seachange for many and with that has brought the town to life with trendy cafes and restaurants to accompany the already well established and world-class wineries. Just up the road in the tiny township of Yeoval is a remarkable exhibition featuring the life and times of Banjo Patterson. Normally these works would only be available in National Galleries, not in a non-descript council building in the main street of Yeoval. For history lovers, it is worth the drive. I also highly recommend staying for a Devonshire Tea, locally made of course.
Back in Orange, the variety of wineries on offer is outstanding, full of friendly and attentive cellar door attendants. It will take you back to a time when wine producers were happy to share their produce and tasting notes. If wine is not your thing, the region is also full of great parks and galleries. Combine your visit to Orange with a stay at Mudgee. Travel along the Burrengdon Way via Wellington. The ground is still wet from recent rains and the paddocks are alive and well.
For a great country escape close to Sydney, this area is hard to beat.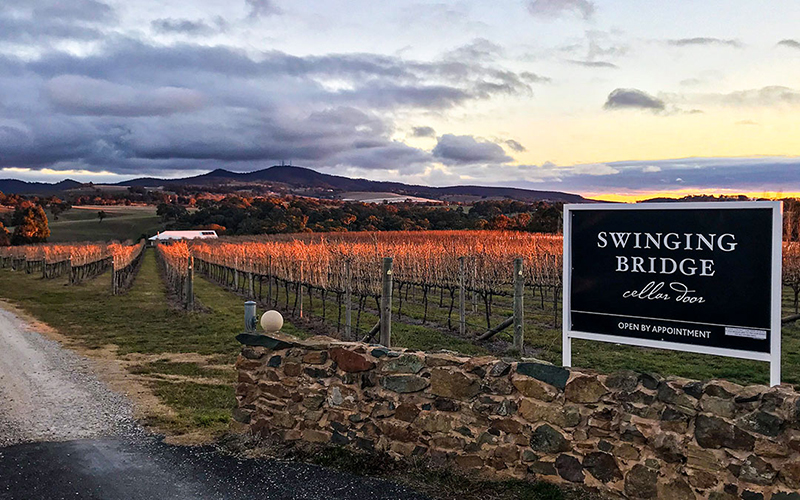 New South Wales 
The Hawkesbury & Marramarra Lodge 
The Hawkesbury River Region perched right on the doorstep of Sydney offers so much. Tranquil waterways, stunning and remote beaches, beautiful bushland trails and incredible eateries. For something a little different, but equally luxurious, try Marramarra Lodge. Accessible only by boat, the lodge offers barefoot luxury in the heart of the Hawkesbury River. The adventure starts when you step onboard Marramarras private boat transfer to the picturesque Fisherman's Point. Choose to stay in either a lavish Peninsula tent or an opulent Hawkesbury Bungalow. After settling in you may wish to explore the island on foot or simply relax in your stunning surrounds. Other activities include a guided walk with a local Indigenous leader, Stand Up Paddle or touring a nearby pearl farm. Whatever your taste satisfaction will be guaranteed.
Meals are provided by a Michelin Star Chef. Include a visit to Palm Beach in your stay with lunch and a private road transfer back to your base.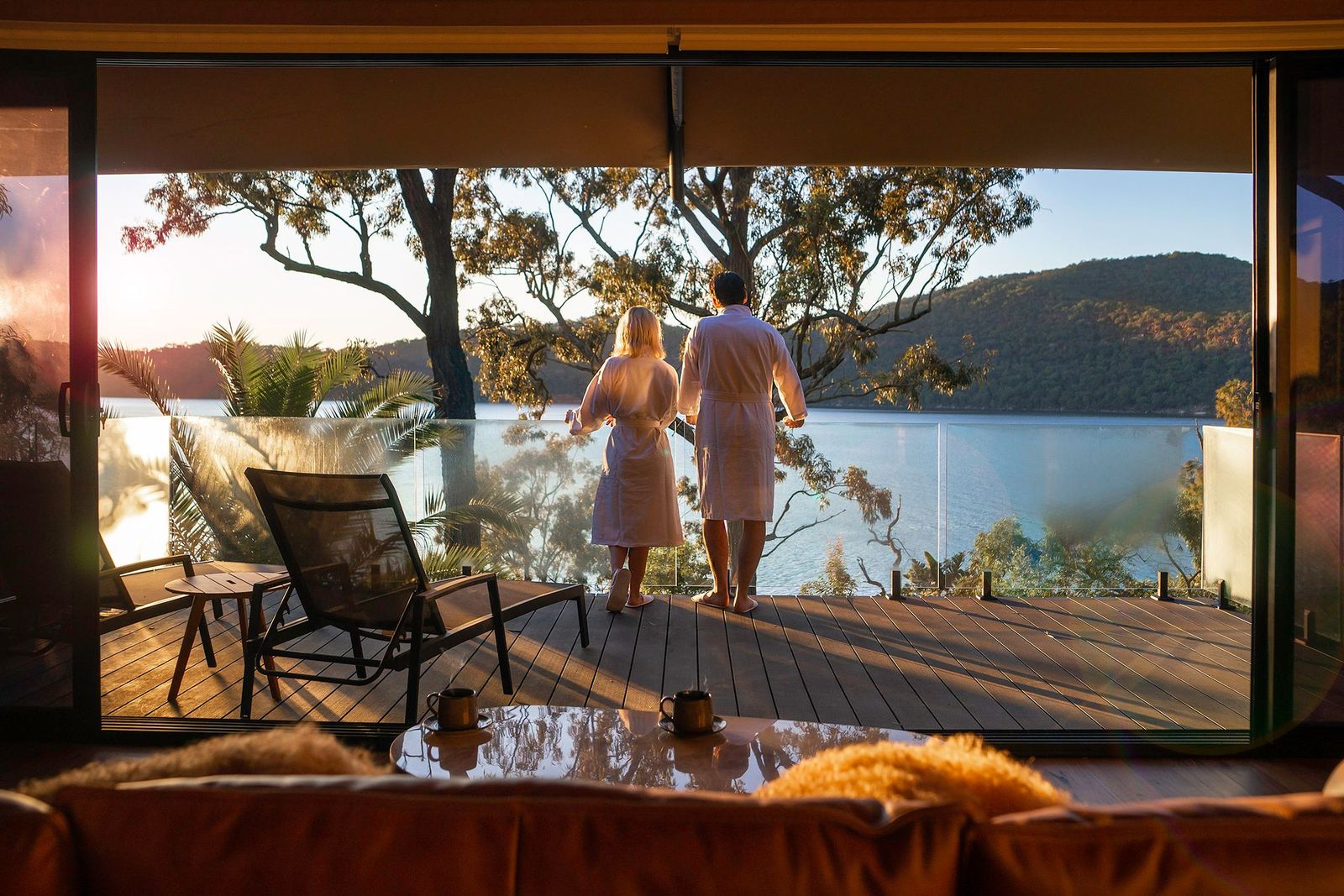 New South Wales 
Mungo Outback
This World Heritage-listed National Park is located in the South West of New South Wales and features 40,000-year-old relics including the Mungo Man. The Lunar Landscape is a highlight and travellers can link up with a local guide to take them through the best bits. It's like nothing else in Australia and its ancient landscape offers some of the best histories of first nation Australians. A scenic flight by light aircraft is a must to really appreciate all that you are experiencing. Stay at the homely Mungo Lodge and meet new friends to share stories with at the outback bistro and bar that night. A truly unique outback experience.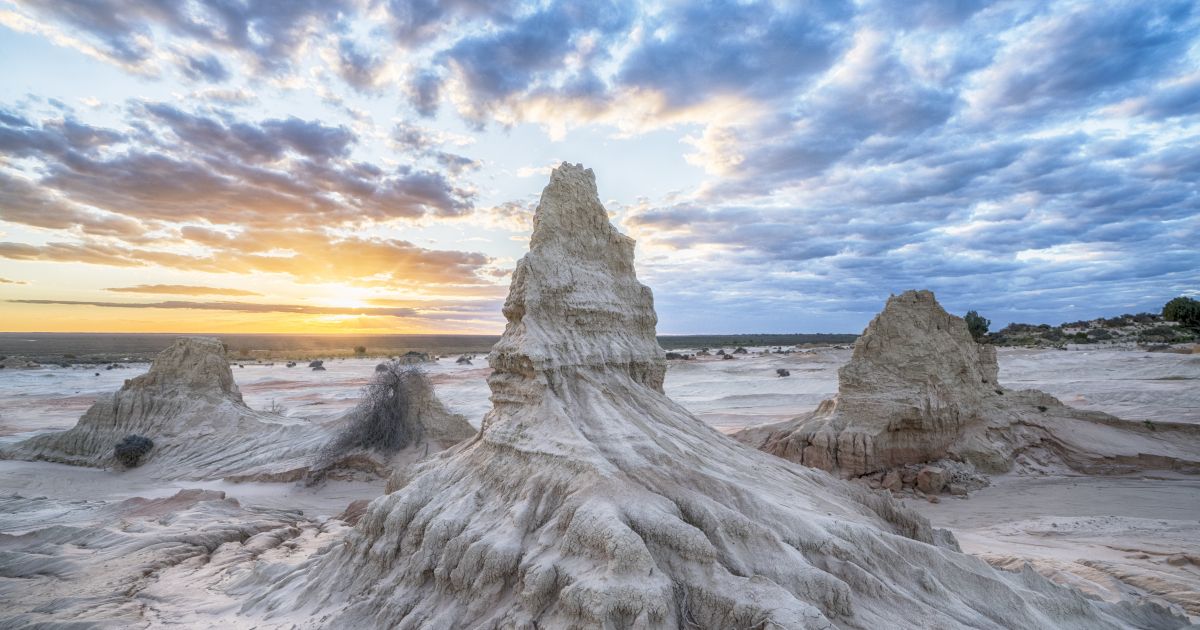 South Australia 
South Australia has so much variety and so much to offer. From the city of Churches to world-class wineries to the Outback, the southern state has it all and in spades. Spend a night in Adelaide exploring the city before heading out of town to the Barossa Valley staying at the Louise. Indulge in wine tasting and a visit to Penfolds is a must for wine aficionados. The Barossa is full of world-class wineries and of course, having a guide with you showing you the best ones is essential so that you can sit back and relax and enjoy the free flow of wine.
A great add on to the Barossa Valley are the Flinders Ranges. The drive through this part of South Australia is epic. The rich wine-growing plains slowly turn into arid desert as the ranges rise up from the brown earth. Arkaba Station is situated in the heart of the Flinders Ranges and offers exceptional accommodation and activities. Discover the amazing flora and fauna of the Flinders Ranges on foot with one of the specialist Arkaba walking guides.
It is a great mix of world-class food and wine and amazing wilderness.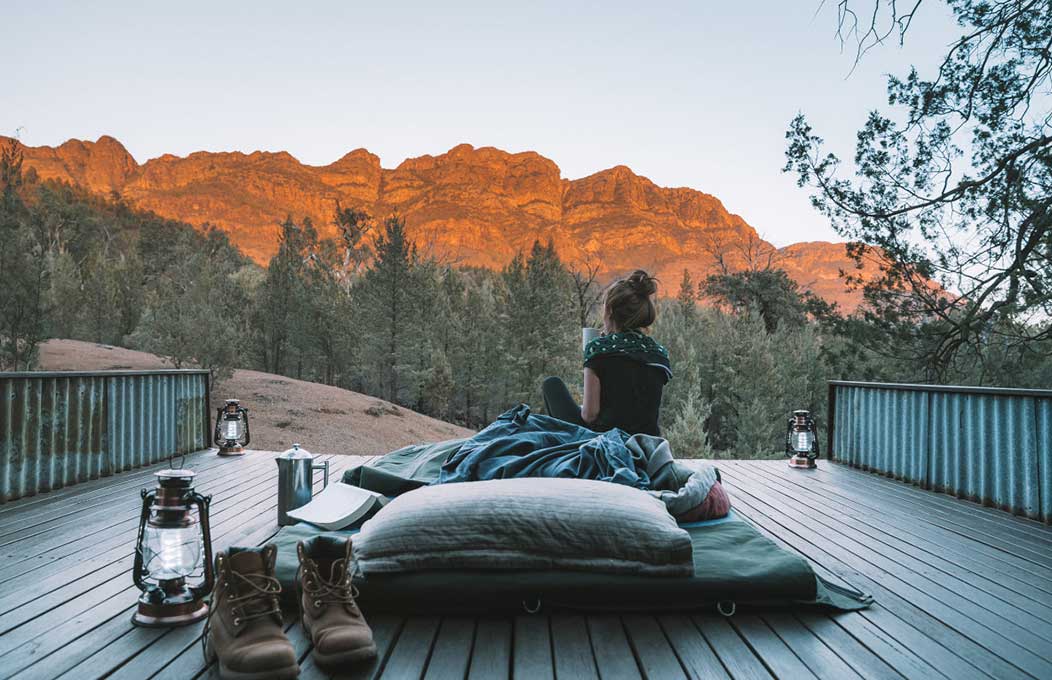 Tasmania 
Speaking of Wine and Wilderness, it is hard to go past Tassie. There is very high demand at the moment for the Apple Isle, so if you are planning to visit here, be quick. Spend a couple of days in Hobart to check out all that this hip Capital City has to offer. Explore the nearby Salamanca Place and Battery Point, the historic birthplace of Tasmania. The city is awash with wine bars, cute cafes, gin distilleries and hatted restaurants, all within walking distance of the iconic Constitution Dock. Stay at Hobart's latest 5 star offering Macq01, built on a disused Maritime Wharf. Just a 35-minute drive south of Hobart is Bruny Island. The size of Singapore, the island has a fulltime population of just 4000. The pristine conditions speak for themselves. Pop over and taste local oysters and wine. Further afield is the Huon Valley, well known in the past for its fruit growing and orcharding, now home to Willie Smiths Cider, an apple orchard gone rogue and now producing a range of excellent ciders. Of course, MONA is also an essential visit to take in some of the culture on offer at this quirky but world-class Museum.
After you have discovered the wine, now head to the wilderness, Freycinet Peninsula no less and pull up stumps at the Freycinet Lodge, located deep within the National Park. Close to Wineglass Bay and endless walking tracks, you will have no shortage of wilderness experiences.  After a few days, your private driver will transfer you back to Hobart Airport refreshed and de-stressed.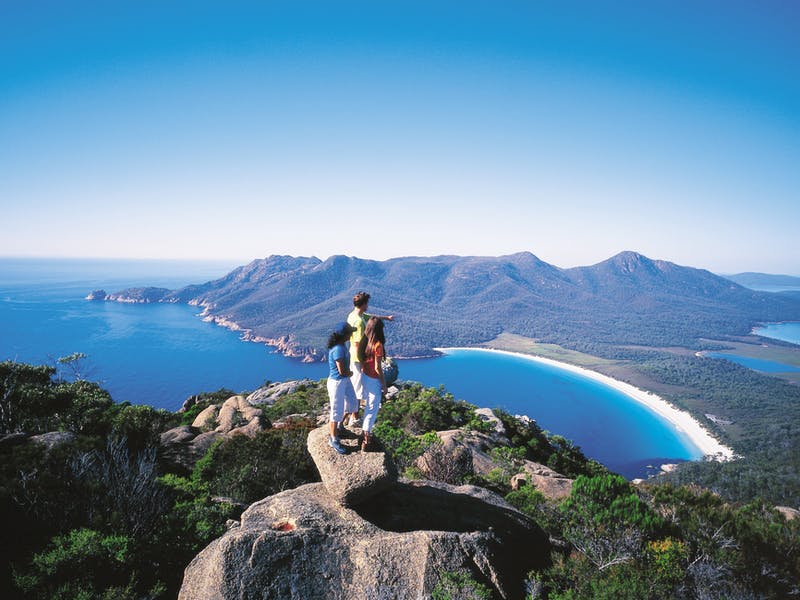 Queensland
Sunshine Coast 
Queensland's Sunshine Coast is well known for its stunning beaches and cool cafes. What allot of people don't know is how spectacular the hinterland regions are. Visit the small towns of Pomona, Cooroy and of course Eumundi.  Travellers will be pleasantly surprised at the plethora of chic eateries including  Humdrum Express, Dhoms Kitchen and one of our favourites, Copperhead Restaurant and Brewery. While in the area traverse Mount Coolum for exceptional views. Continue onto the charming town of Montville and stay overnight at the sublime Spicers Clovelly Estate.  Back on the coast take a private 4WD day tour to the largest sand island in the world, Fraser Island. Getting there is half the fun travelling along the beaches and exploring shipwrecks.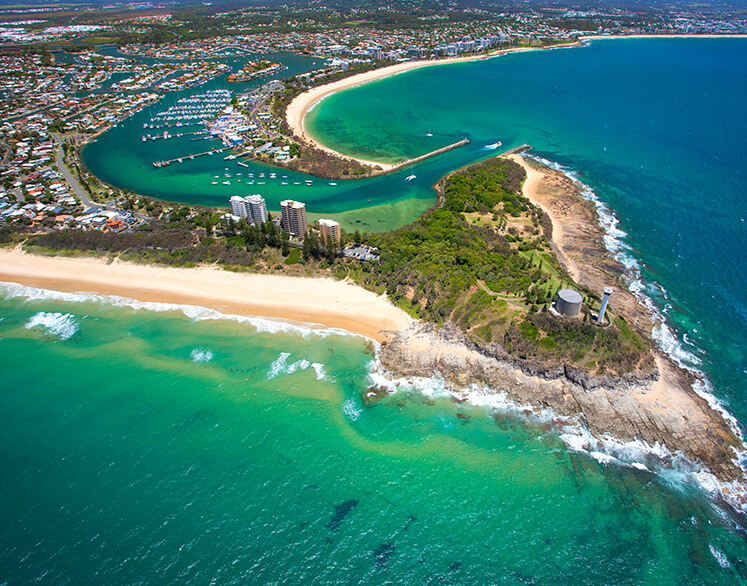 If you are in search of some more ideas and inspiration? Give us a call or send us an email.
Phone: 02 9980 8799
Email: tours@australianluxuryescapes.com